GIJA knitted pants
Wide pants together with a sweater with a high collar of the same color are perfect for leisure and urban stylistics. Knitted wide pants create an exclusive, light and memorable image.
Composition:
10% Cashmere, 90% Extrafine Merino wool
Care:
Dry cleaning, hand washing or wool mode up to 30ºC using detergents adapted for wool products. Do not use a tumble dryer, dry in a horizontal position.
Size table (cm):
| — | S | M | L | XL |
| --- | --- | --- | --- | --- |
| A | 74 | 78 | 82 | 86 |
| B | 90 | 94 | 98 | 102 |
| C | 56 | 58 | 60 | 62 |
| D | 52 | 53 | 54 | 55 |
| E | 72 | 73 | 74 | 75 |
| F | 104 | 106 | 108 | 110 |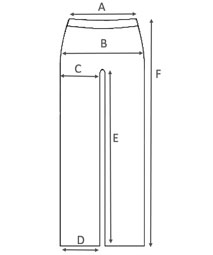 Other items:
MORE