Cotton and wool sweater
Merino wool and cotton combination for maximum comfort.
Product code:
4399
Composition:
80% Cotton 20% Extrafine Merino wool
Care:
Dry cleaning, hand washing or wool mode up to 30ºC using detergents adapted for wool products. Do not use a tumble dryer, dry in a horizontal position.
Size table (cm):
| — | S | M | L | XL |
| --- | --- | --- | --- | --- |
| A | 100 | 104 | 110 | 116 |
| B | 98 | 102 | 108 | 114 |
| C | 84 | 88 | 92 | 110 |
| D | 28 | 29 | 31 | 32 |
| E | 65 | 67 | 67 | 68 |
| F | 58 | 62 | 63 | 64 |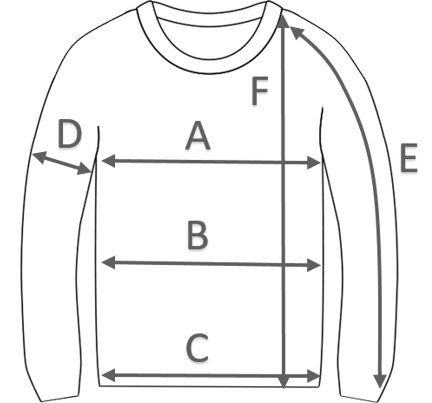 Other colors available:
MORE